What a place Cape Town must have been just a few hundred years ago! Herds of antelope and zebra grazed landscapes of forests and flowers, scattering in panic at the appearance of lions and wild dogs. There were hippos in the wetlands, rhinos in the scrublands, and so many southern right whales in spring that their puffs of breath formed blankets of mist over the ocean.
Anything left? Not the lions and rhinos of course but there's still plenty if you know where to go. There are nature reserves all over the Cape Peninsula and they're all under an hour's drive from central Cape Town. Collectively they offer a comprehensive overview of the Cape's fauna and flora but some are better than others: I've based mine on three criteria:
these reserves must be easy to access and safe to visit
there should be both diversity and abundance of nature
they are rewarding to visit at any time of year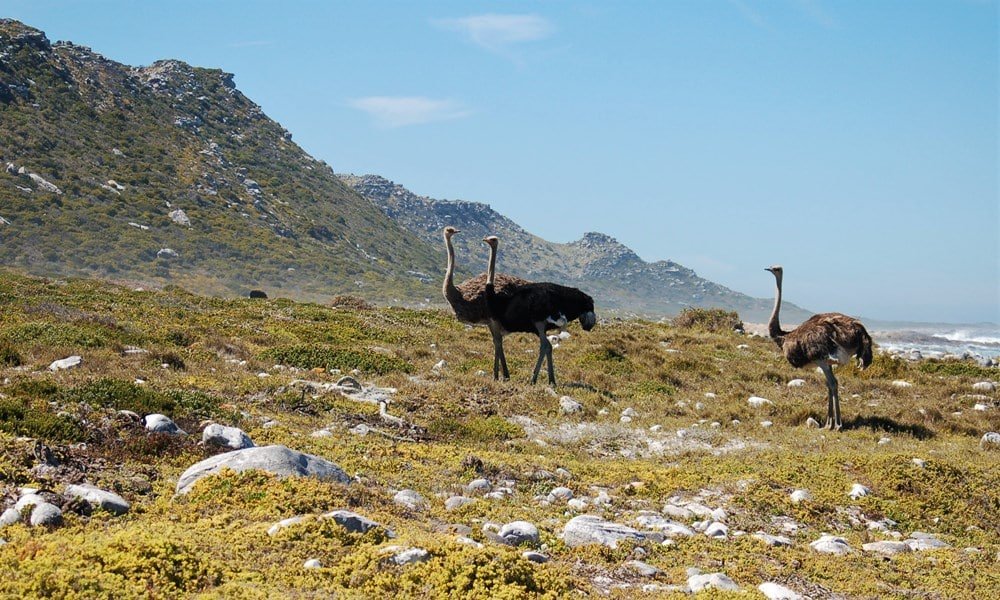 THE CAPE OF GOOD HOPE NATURE RESERVE
Set at the very end of the Cape Peninsula, the Good Hope Reserve is where you'll find famous Cape Point and its lighthouse but if you want to see unspoilt nature then my advice is to stay away from that place. It's where everyone goes – and I mean everyone – whereas the rest of the reserve is usually deserted. Deserted of people that is, but not of wildlife.
An hour's drive from Cape Town, the Cape of Good Hope Reserve is your best chance to see the remaining big animals of the Cape – eland and bontebok antelope, ostrich and baboon, mountain zebra and great flocks of seabirds. The beaches are packed with life – from sand-hoppers to fur seals – and low tide reveals extraordinary rock pools. Drive to Olifantsbos on the Atlantic coast for the best wildlife, and visit Bufflesbaai on the Indian Ocean coast for stunning views and one of the prettiest beaches you've ever seen. There's great hiking in the reserve – the Shipwreck Trail is recommended for an easy walk full of nature and there are a couple of big day hikes too – and Boulders Beach penguin colony at Simons Town is a 15-minute drive away.
Read more about Cape Point Wildlife and a Hike at Low Tide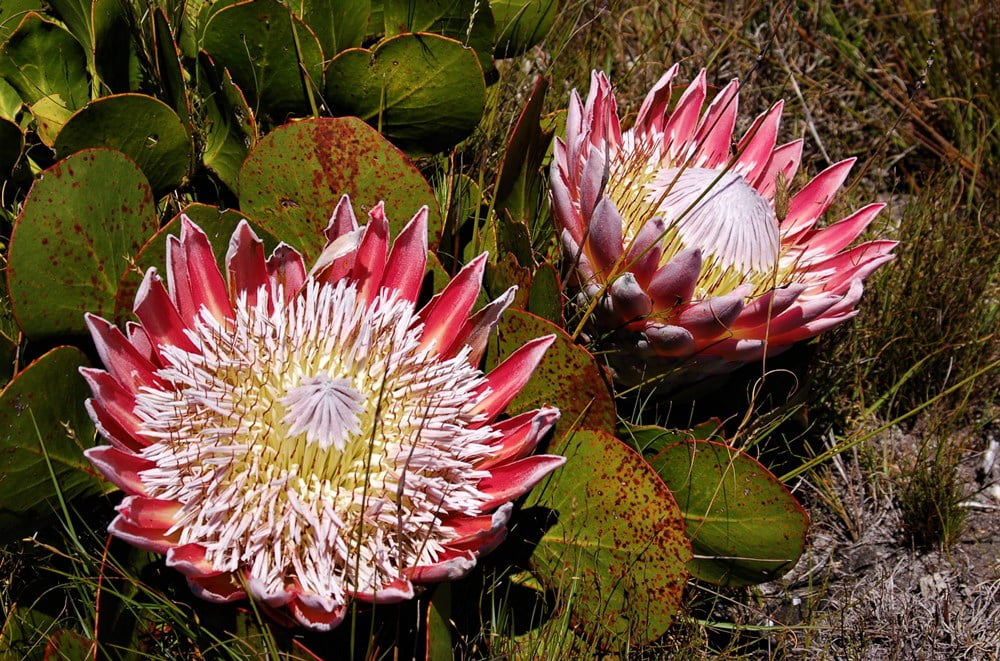 SILVERMINE NATURE RESERVE
There's no silver in these mountains (though they looked for it) but Silvermine is nothing less than a botanical treasure box. With around the same number of plant species as there are in Sweden, this range of mountains halfway down the Cape Peninsula is home to the most pristine fynbos close to Cape Town and sparkles with flowers throughout the year. If you are after the easiest introduction to fynbos – the collective name for the vegetation that cover these mountains – then this is the place.
One great advantage of Silvermine is that it was recently incinerated by fire – March 2015 to be precise – and so the fynbos is young, diverse and vigorous. Indeed, if you have ever doubted the nurturing power of fire in fynbos, Silvermine is the proof in the pudding. Another advantage is that Silvermine is easy walking: gravel roads meander gently through the reserve with single tracks taking you deeper into the mountains. Boasting enormous views of both oceans, the reserve is divided into two areas – west and east – with the eastern side being better for hiking and flowers.
Read more about Silvermine and fire here.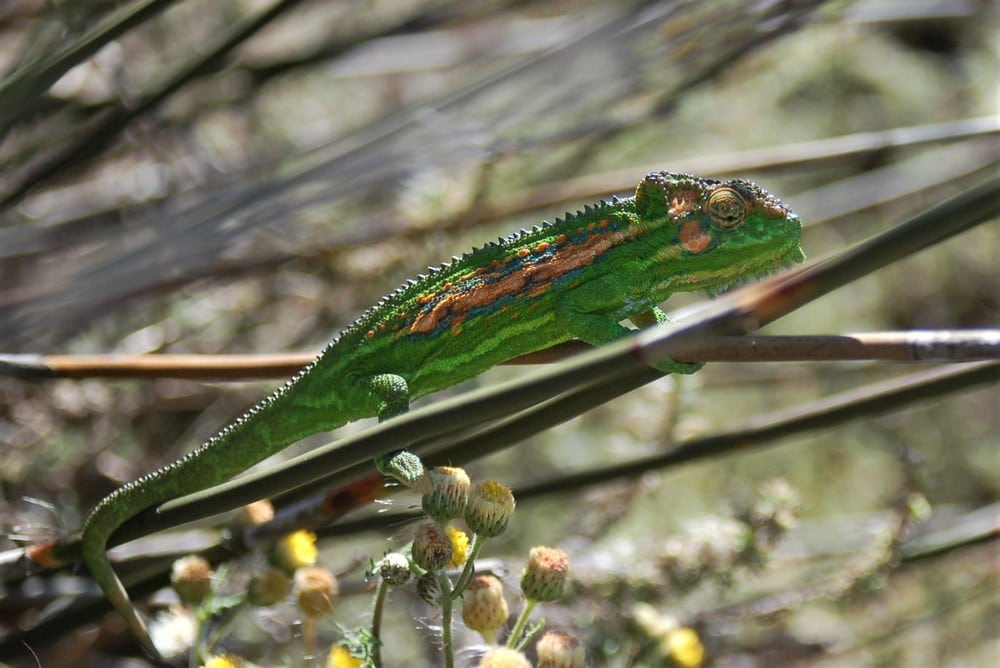 RONDEVLEI NATURE RESERVE
At a modest 290 hectares (700 acres), the Rondevlei Reserve may not be the biggest conservation area near Cape Town but it sure packs it in. Lying on the edge of the Cape Flats, this wetland reserve is your opportunity to see what the local landscape used to look like before humans arrived with bulldozers.
A landscape of thickly vegetated sand dunes and reed beds fringing a brackish lagoon, Rondevlei is a classic birdwatching destination (there are bird hides) where several biomes come together to create a rich diversity of birds. You'll see wildfowl and waders, thicket and forest species like bulbuls and flycatchers as well as marine birds such as gulls, cormorants and terns. Rondevlei is home to a small herd of hippopotamus (seriously!) and it's a great place to see tortoises and the Cape dwarf chameleon as well as rare Cape Flats fynbos plants.
Read more about Cape Town's Rondevlei Reserve here.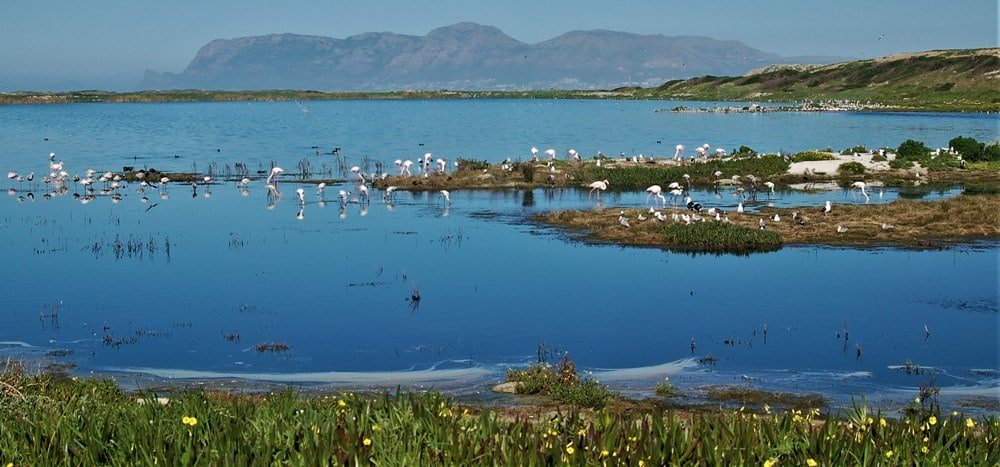 STRANDFONTEIN BIRD RESERVE
I've called Strandfontein a 'bird reserve' because it is part of the Greater False Bay Nature Reserve but in truth it's an enormous water treatment plant – a sewage works. But if you want to see birds in such numbers and diversity that you'll quite literally be rendered speechless – it happens, I assure you – then this is where you go: Strandfontein delivers the best bird watching in the Western Cape.
It's the juxtaposition of different habitats that makes it so good: there are large shallow pans covered in hundreds of ducks and coots, punctuated by pink sheets of flamingos and even pelicans. Dense reed beds hide warblers and waxbills, the grassy verges are patrolled by pipits and long-claws while robin-chats and bush-shrikes skulk through the tangled thickets. The Indian Ocean lies a few hundred metres away so the place is heaving with sea birds and the abundance of food means buzzards, kites, harriers and fish-eagles are around. And I haven't even started on the migrant waders.
Read about Cape Town's best birdwatching here.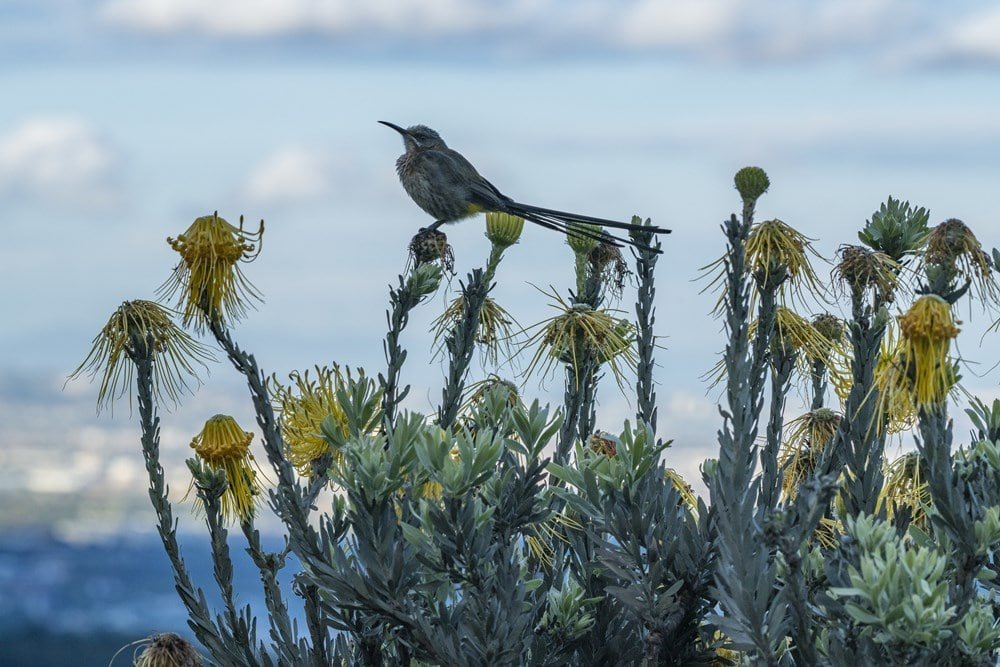 KIRSTENBOSCH BOTANICAL GARDENS
A nature lover is bound to end up at Kirstenbosch sooner or later – it's the most magnificent botanical garden in the southern hemisphere – but go there with binoculars and allow more time for exploring – Kirstenbosch is in effect a nature reserve with well-kept lawns.
The flora is the most obvious attraction at Kirstenbosch and you'll certainly have your fill of flowers, but the landscaped beds are also home to a great diversity of insects while the stone pathways in front of you are crisscrossed by darting mongooses, lizards and not-so darting tortoises. And there are birds everywhere. In fact, Kirstenbosch is a renowned birdwatching destination. It's most famous for its easy-to-see eagle owls but Kirstenbosch's great advantage is that its fynbos flower beds attract the sort of birds you normally have to go huffing and puffing up in the mountains for – orange-breasted sunbird, Cape siskin and Cape sugarbird for example. Walk to the back of the gardens where they grade into natural forest and you'll hear the whistles and peeps of greenbuls and white-eyes. Go in the morning – preferably when the gate opens – for the best birding.
Read more about Fynbos Birds here.