Can we stop using the word "winter?" May through September in the Western Cape is the Rainy Season. We use that phrase in the rest of Africa; it beats me why we insist on calling it winter down here in Cape Town. The Cape's Rainy Season is just that: between 70- to 80% of the year's rain arrives at this time, a succession of around twenty cold fronts straight off the churning Atlantic Ocean: heavy rain, strong winds and coldish temperatures.
And anyway, the word "winter" just doesn't work for the Cape. It's not particularly cold – temperatures in Cape Town almost never fall below freezing – and Canadians laugh politely when they see the snow on our inland mountains. For them, and most other visitors from the northern hemisphere, the word "winter" conjures up images of ice, darkness and death. Things couldn't be further removed from that in the fynbos: "winter" is when the fynbos comes alive.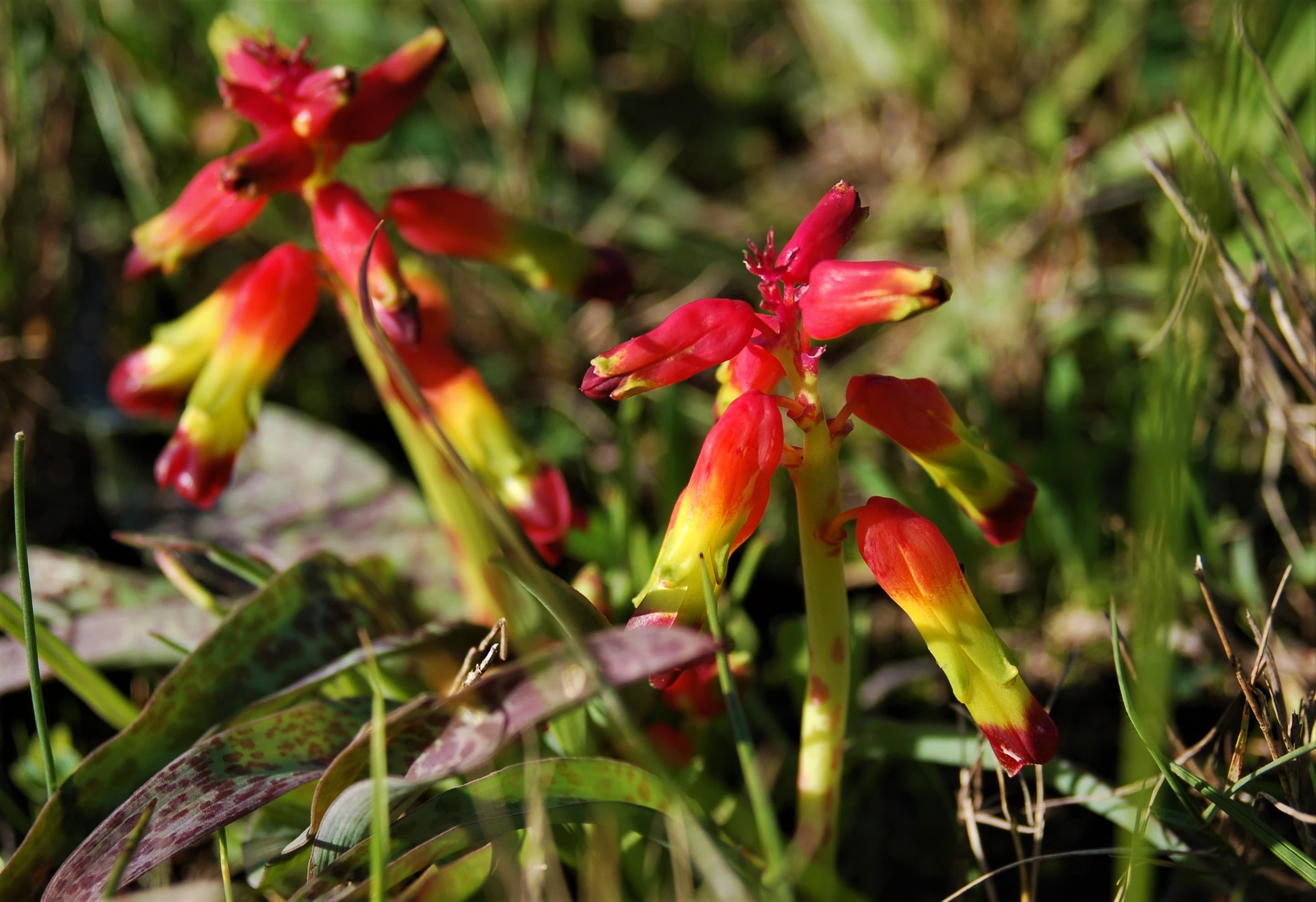 A type of Hyacinth, Lachenalia aloides lights up winter fynbos; its Afrikaans name is Vierkleurtjie – translating loosely as "Little Four-Coloured One."
What starts it all off are the falling temperatures of April and May – particularly the combination of warm sunny days and chilly nights. It is a promise of rain and that really gets fynbos plants excited: green leaf tips – orchids and irises – pop up from the sand; snaking flower stalks appear on fat aloes, and the ground is studded with yellow, pink and white Oxalis – the first flowers of the rainy season.
It's not just plants that are getting busy; birds are as well. Most fynbos birds breed at this time of year to avoid building a nest in the fire-prone dry season (known in Cape Town as "summer"). It makes for some lovely eco-symmetry – sunbirds and sugarbirds feeding from winter-flowering proteas and aloes, for example.
Others welcome the rains too. The appearance of fresh greenery – especially in recently burnt areas of fynbos – means nutritious grazing for all sorts of animals: rodents, antelope, baboons, ostrich, and you can be sure that 100 000 years ago we were there too, digging up soft new plants along with the rest of the wildlife.
And there was more for us to eat than just sprouting plants. Herds of eland – Africa's largest antelope – would make their way onto the wintery Cape Peninsula from what is now the agricultural Overberg region. The journey was perilous: lions stalked the eland herds and their passage onto the peninsula involved descending a steep mountain path, close to modern-day Sir Lowry's Pass. But their reward was fresh green fynbos and the rich winter grasses of coastal Strandveld.
By June and July, the rains have really settled in. and fynbos plants make the most of it. Proteas and restios – the Cape reeds – send out short-lived rootlets from their surface roots. Resembling strands of cotton, they capture as much surface moisture as possible while lapping up nutrients from the soggy, decomposing leaf litter. Other plants like Haemanthus – part of the Amaryllis family – take care to send up their massive leaves in these cooler and wetter months, while saving their flowers for the dry season when appropriate insect pollinators are active – the most important of which is the summer-flying Table Mountain Beauty butterfly (Aeropetes tulbaghia).
And, speaking of insects, unlike the annual cull of insects in the savage northern hemisphere winter, there's no discernible winter die-off in fynbos. A sunny winter's day in fynbos swarms with buzzing bees and jinking butterflies, intoxicated by an interesting array of smells – honey, cloves, fabric conditioner – and the yellows, whites and pinks of the flowers that produce them.
Want to see for yourself? Among the best and easiest places to see winter fynbos flower in the Cape Town area are: Rondebosch Common (bring wellington boots); the lower slopes of Lion's Head; and the Atlantic coast of the Cape of Good Hope Nature Reserve – especially the Olifantsbos area. Any recently burnt patches of fynbos are particularly exciting in the rainy season – from a botanical perspective – and even more so if it is the first year of recovery.
Choose a clear day – plenty of them at this time of year – and don't forget a hat and sunblock: it's a Cape winter out there.